Here are some of the major brands we stock. Pop in for a look at the bikes in the flesh, and to find your size.
We are offering 0% Finance over 12 months on all bikes over £300
Bicycle Brands


Bicycle Typogram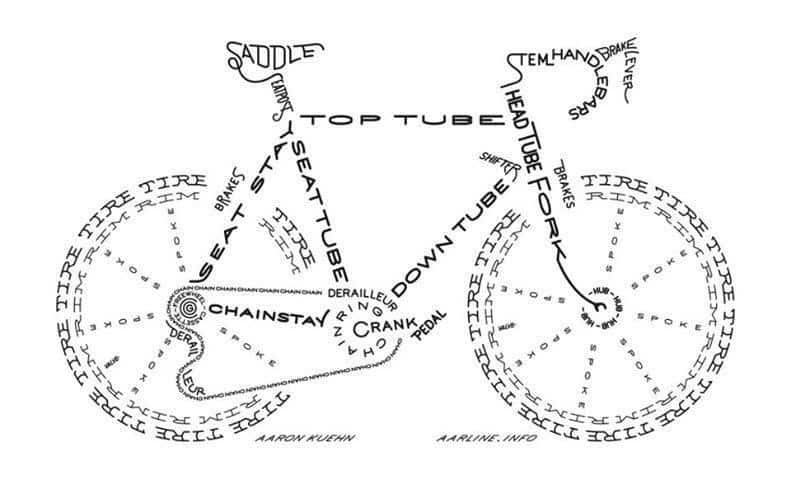 Some of our happy customers with their new bicycles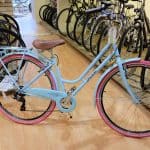 This is a geourgous Vintage bike. We have it in several colours.
This Blue goes very well with the Pink tyres from Dutch Perfect call simply 'No Flat Tyre' they are a Very puncture resistant tyre. Costing £24.95 each, Bringing this option to £270. (£10 trade in on each of  the original tryes)
Also shown is a single pannier from Basil, costing £49.99
on this bike the original tyres are black and can b re-fitted 
MERIDA RIDE 300 54cm RRP £875
The Ride series are the comfort road bikes from Merida. This one has the super light frame, Full Carbon fork and Shimano Tiagra components. Fantastic fun.
MERIDA RIDE 500 52 cm £999.99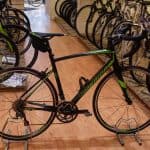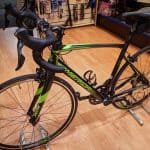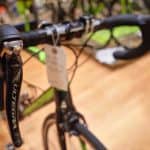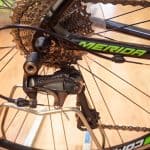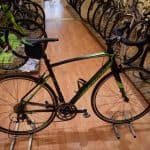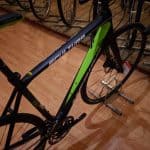 RIDE 500 ULTEGRA  This one uses the same Super Lightweight Frame and Full Carbon Fork. with Shimano  components. its a great priced bike.
It's a demonstrator bike, so as well as being workshop maintained it also comes with an 'X Demo price' of £800.
Forme LONGCLIFFE PRO 2.0 54cm RRP £850 now £620
This is another great value bike Lightweight Alloy and Carbon Fork team up to create a very versatile bike, perfect for long days out in the saddle.
Probike 'Ruby' Vintage £249.99
The Vintage Probike is a very cost contentious bike, you get a very well made bike that has  some wonderful design touches.
Full guards, carrier, chain guard and propstand make this a superbe option.
Merida Scultura 500, ULTEGRA Hydraulic Disc Road Bike £1600 Now £1059.99
Merida Scultura 500
Ultegra 11 spd and hydraulic brakes, all fitted onto the super light alloy frame and carbon fork.
Make this a fantastic bike, but at this price, its better than fantastic
Raleigh Performance 26" Road RRP £395 now £345
The Performance range are seriously, They are high quality bikes, very light and serious children's bikes. 
just the ticket for having fun
Raleigh Performance 26"x16" Off road £340
Off road Performance model, fantastic bike super lightweight, 8spd cassette rear wheel, single chainwheel. perfect for 10 yrs plus
Raleigh Strada 1 Ladies £330
The Strada range is a very versitile family. 650B/27.5 wheels are fitted with road going tyres that are great on the flat stuff, but can also have the Nobby tyre you see on the gents, 21speed Sti shifter with nice alloy frame, create a stunning option 
Raleigh Strada 1 Gents £330/£350
The Strada comes in 2 colours, and 5 sizes from 14″-22″ on the 650b/27.5 wheel.  I have both colours in stock, and also one fitted with the Nobby tyre option, this takes the price to £350
Merida Crossway 10V Ladies and Gents£400
Merida Crossway Alloy frame, suspension fork, 21 spd STI shifters, sus seat post and adjustable stem. One of the most practical bike there is. All round Winner
Merida Speeder 100 56cm £599
The Speeder fills the gap between a full road bike, and a hybrid, often call a 'sport hybrid' this model utilizes the 'Ride' road bike frame, combines it with beefed up carbon forks and a hydraulic disc brake system. Its the perfect fast commuter bike when fitted with guards and carrier, you can also go off road with cyclocross tyres fitted.
PowaBike Electric bike £1149.99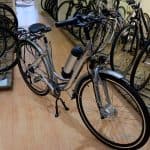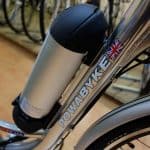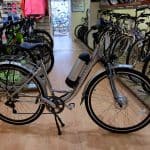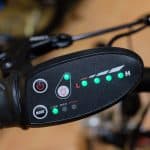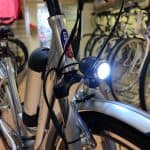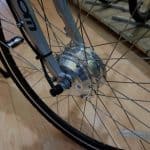 Super light Alloy Frame  with powerful motor in the front wheel.
25-50 Miles per charge 
Lithium Ion batteries
Step through frame
Merida Silex 300 50cm (m) £1,200
The Silex,   is Meridas new range of bikes.
This type of  are often called 'Gravel Road Bikes' because they are designed to be a fast on road bike, but also be equally fast on gravel track,s or even round the forest.
You can fit mudguards or load it up for touring.
It's a 'Swiss Army Knife' of bikes, it will do anything.
It has a super light but strong Alloy frame, coupled to a full carbon fiber fork.                 Sram 1×11 gearing.                 TRP Disc Brakes.
Merida Speeder 200 52cm £749.99
The Merida Speeder range are fantastic bikes, capable of keeping up with drop bar bikes, yet a little stronger and able to cope with bumpy lanes and even off road (with the correct tyres)
They are one of our favorites here at Cranks
All checked and ready to go
Merida Speeder Juliet 100 52cm £550
The Speeder range is super fast and tough enough to be your every day commuter if you wish.
This is  such a great colour, I fancy it myself
All checked and ready to go